Thank you for registering! We sent you a confirmation email; please click the validation link to confirm your subscription.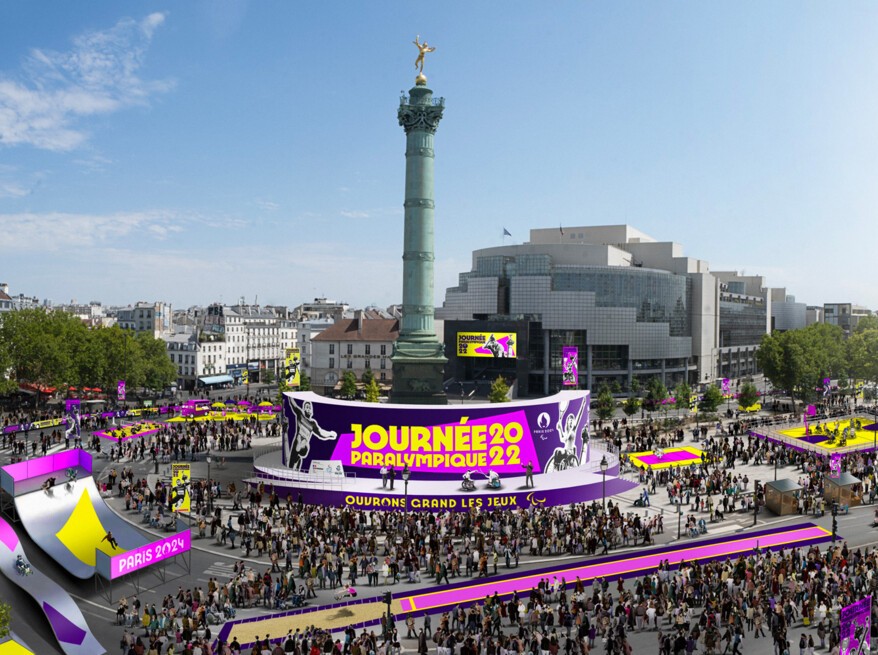 On 8 October, all to Bastille! A sports and festive programme for the first Paralympic Day!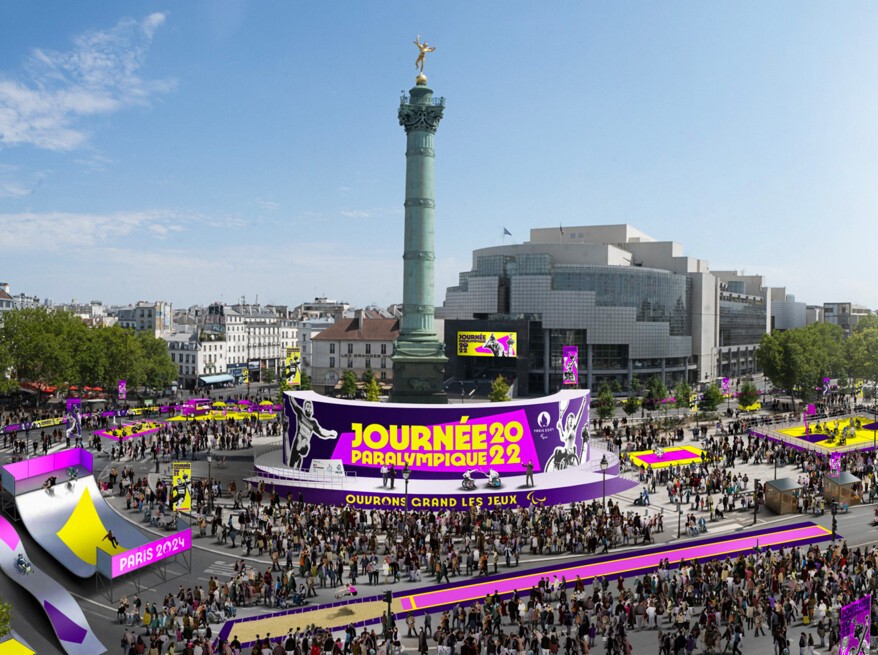 Two years before the Paris 2024 Paralympic Games, the Organising Committee for the Olympic and Paralympic Games Paris 2024, the French State, the French Paralympic and Sports Committee (CPSF) and the City of Paris invite you to the first Paralympic Day on Saturday 8 October at Place de la Bastille in Paris. For amateurs or experienced sportspeople, with friends or family it will be a day to try para-sports for free, to watch sporting displays and meet the athletes!
Press Accreditation: here
On Saturday 8 October 2022 from 12 pm to 9 pm, there will be free access to sporting performances, demonstrations, and introductions to over fifteen Paralympic and Para sports disciplines and the chance to meet over one hundred Paralympic and Olympic athletes. All in the heart of Paris!
Two years before the Paris 2024 Paralympic Games, Paralympic athletes will share their passion with young and old alike on the famous Place de la Bastille, which has been transformed into a vast open-air playground for the occasion!
Displays and performances
Awe-inspiring sporting displays will be on show, with a long jump track set up in front of the Opéra Bastille. Germany's Markus Rehm, Paralympic champion (T64) in long jump at London 2012, Rio 2016 and Tokyo 2020 Paralympic Games will try to push his limits and replicate his world record of 8.62 m. He will be joined by Greek athlete Stelios Malakopoulos (T62) long jump world record holder. Watching the spectacle will be France's very own Arnaud Assoumani (T46/T47,) world record holder and multi-medallist in long jump and triple jump at the Paralympic Games in Athens 2004, Beijing 2008, London 2012 and Rio 2016), Marie-Amélie Le Fur (Paralympic medallist in the long jump at Beijing 2008, London 2012, Rio 2016 and Tokyo 2020), President of the French Paralympic and Sports Committee (CPSF), Tony Estanguet, President of Paris 2024 and Andrew Parsons, President of the International Paralympic Committee (IPC), Amélie Oudéa-Castéra, Minister for Sport and the Olympic and Paralympic Games, Geneviève Darrieussecq, Minister for the Disabled, and Anne Hidalgo, Mayor of Paris.
Try out para-sports
Demonstrations will take place all afternoon across three sports areas set up on the Place de la Bastille. In a dedicated zone, sports federations will also offer activities and introductions to more than a dozen Paralympic Sports: wheelchair basketball, Boccia, blind football, wheelchair fencing, Para athletics, Para-rowing, Para badminton, Para judo, Para table tennis, Para triathlon and sitting volleyball. Initiations to other Para sports that are not part of the official Games programme will also be offered, such as wheelchair BMX, wheelchair Handball, Paraclimbing and Showdown.
Around 100 Paralympic and Olympic athletes present
Spectators will have the opportunity to meet with hundreds of Paralympic and Olympic Champions such as Sandrine Martinet, Para judo, Nelia Barbosa, Para canoeing, Arnaud Assoumani, long jump and triple jump, Perle Bouge, Para rowing, Maxime Valet, wheelchair fencing, Marie Patouillet, Para cycling, Mandy François-Elie, Para athletics, Alexis Hanquinquant, Para triathlon, Benjamin Daviet, Para Nordic skiing, and also Olympic athletes: Martin Fourcade, biathlon, Florent Manaudou, swimming, Romain Cannone, fencing, who are all Para sports fans!
Around the July column, on the main stage, Maxine and Michaël Jérémiasz, Paralympic wheelchair tennis champion, gold medalist in doubles at the 2008 Beijing Paralympic Games and presenter of the day, will be joined by the athletes for Para sports shows. Artus will perform some comedy sketches and Fauve Hautot and Sami El Gueddari will perform dance routines. Bboy Haiper, aka Youssef Mecheri, and Bboy Caesar, aka Samy Barkia, will dazzle the crowd with a sensational breakdance show as will acrobat Karim Randé. Music will also be played with a showcase of Myd (DJ set) that will keep the party going until 9 pm!
A fully accessible event in the heart of Paris!
The event will be fully accessible, and the rich and varied programme will allow the greatest number of people, whether they are disabled or not, to enjoy the day.
The Paris 2024 Partners will also be present throughout the day to offer even more activities to the general public: demonstrations, introductions, meetings, wheelchair obstacle courses and many other activities.
Paralympic Day is an event supported by Paris 2024, the Ministry of Sport and the Olympic and Paralympic Games, the Ministry of Solidarity, Autonomy and the Disabled, the French Paralympic and Sports Committee (CPSF) and the City of Paris.
PRESS CONTACT
 Paris 2024
Julie Tilman | jtilman@paris2024.org 
Agathe Renoux | arenoux@paris2024.org
AOP pour Paris 2024 - Alix Bourgeois I alix@agence-op.fr I +33 (0)6 07 55 25 52
Ministry of Sport and Olympic and Paralympic Games : Ariane Vincent | ariane.vincent@sports.gouv.fr|+33 (0)6 63 25 88 19
Ministry of Solidarity: Manon HIRTZ |  Sec.presse.cabsolidarites@social.gouv.fr I +33 (0)6 32 26 19 66 et Héloïse Léon  | heloise.leon@social.gouv.fr  | +33 (0)6 81 52 53 03
French Paralympic and Sports Committee: Marion Watelle | medias@france-paralympique.fr|+ 33 (0)6 65 75 71 25
City of Paris: Solène Bures| solene.bures@paris.fr|+ 33 (0)6 33 42 67 04
All Paris 2024 communications and the media library :
The Paris 2024 online shop (a selection of paralympic products on sale : t-shirts Le Coq Sportif, pin's Drago)
http://boutique.paris2024.org/ 
For more information on the Paralympic movement:
https://france-paralympique.fr/
_____________________________ 
 
Paris 2024
The mission of the Olympic and Paralympic Games Paris 2024 Organising Committee, in accordance with the host city contract signed between the International Olympic Committee (IOC), the Comité National Olympique et Sportif Français (CNOSF – French National Olympic and Sporting Committee) and the Ville de Paris municipal authorities, is to plan, organise, fund and deliver the Olympic and Paralmypic Games Paris in 2024.
The Olympic and Paralympic Games are the greatest sporting event in the world, with unparalleled media impact. They bring together 10,500 Olympic athletes and 4,350 Paralympic athletes, respectively from 206 and 182 delegations, across five continents. They are watched by over 13 million spectators and 4 billion television viewers across the world, across a total of over 100,000 hours of TV broadcasting. They are without equal in sporting, economic and cultural events throughout the world, and this power helps to further their impact.
Set up in January 2018, Paris 2024 is headed by Tony Estanguet, 3-time Olympic champion and member of the IOC. It is run by a Board of Directors, on which sit all the founding members of the project: the CNOSF, Ville de Paris, the French Government, the Île-de-France regional authority, the CPSF, the Métropole du Grand Paris, the Conseil départemental de Seine Saint-Denis, representatives of the local authorities involved in the Games, civil society and corporate partners.