Thank you for registering! We sent you a confirmation email; please click the validation link to confirm your subscription.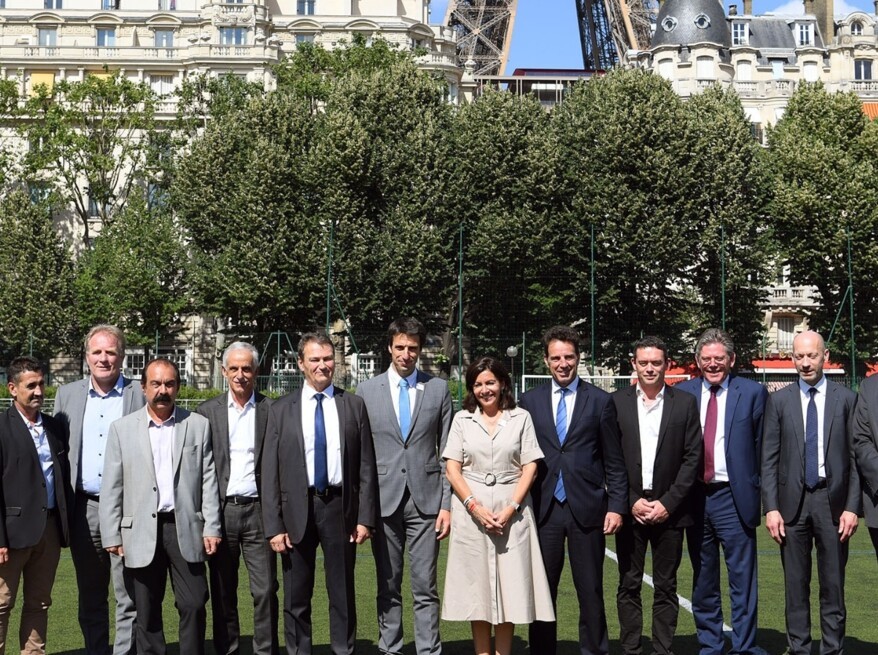 France's main trade union and employer organisations make Paris 2024 commitment
A Paris 2024 social charter has been signed today, Tuesday, by the Paris 2024 Committee, Solideo and France's main trade union and employer organisations – an event timed to mark the visit of the IOC's Coordination Commission to Paris. The charter represents a strong commitment, emphasising the social and economic ambition surrounding the Games.
The ratification of this charter takes place, symbolically, at a time when Paris is playing host to the IOC Coordination Commission, whose first visit to the city will conclude later today. An initial agreement between the Paris 2024 Committee and the five trade unions had previously been signed during the bid phase. The ratification of this charter, during the hosting phase, extends the original commitments and marks an additional step in the social legacy ambitions for Paris 2024. It brings together an even wider group of signatories, mobilising both trade unions (CGT, CFDT, CFE-CGC, FO and CFTC) and also employer organisations (MEDEF, CPME, U2P), all committed to making Paris 2024 a catalyst for social progress and economic and community development.
The charter aims to serve as a benchmark social document with the involvement of the Paris 2024 Committee, businesses and local authorities playing a role in staging and preparing for the 2024 Games.
The document was officially ratified today in the presence of the IOC delegation, by Tony Estanguet, President of Paris 2024, Anne Hidalgo, President of Solideo and Mayor of Paris, Bernard Thibault and Geoffroy Roux de Bézieux, the two trade union and employer representatives on the Paris 2024 Board, and by leaders of trade union and employer organisations committed to Paris 2024.

Trade union signatories and their representatives (alphabetical order)
-        CFDT – Yvan Ricordeau, National Secretary
-        CFE-CGC – François Hommeril, President
-        CFTC – Philippe Louis, President
-        CGT – Philippe Martinez, General Secretary
-        FO – Frédéric Souillot, Confederal Secretay of legal affairs and trade union rights

Employer organisation signatories and their representatives (alphabetical order)
-         CPME – Jean-Lou Blachier, Delegated Vice-President
-         MEDEF – Michel Guilbaud, Director General
-         M2P – Pierre Burban, Director General
The Paris 2024 Games social charter commits all signatories to 16 measures, some of which directly concern employment and so will enable the full economic opportunity of the Games to be seized, particularly in the following ways:
Anticipating businesses' skills requirements to ensure smooth delivery of the Games
Prioritising employment opportunities for hard-to-reach groups (young people from priority neighbourhoods; workers with disabilities; people in long-term unemployment; senior citizens) thanks to the engagement of all key agencies (State, local authorities, businesses)
Supporting a public procurement framework that rewards employment of hard-to-reach groups; sees social and environmental commitment clauses included in all tender notices; and takes account of the specific circumstances of French SMEs. 
Other measures will support skills development, helping match supply to demand, by:
Creating pathways between the voluntary sector and the world of work, recognising the commitment of volunteers with certification or references testifying to the experience gained
Supporting younger groups with job-based training courses and apprenticeships to optimise their long-term employment chances
Sector-based advanced skills training programmes and preparation for emerging jobs, throughout the Games hosting period.
There are also measures making workers' employment conditions a core priority, by:
Preventing all forms of employment discrimination
Encouraging gender equality in Games delivery roles
A Social Charter Oversight Committee has already been established, ahead of the ratification on Tuesday, to maximise efficiency and ensure no time is lost in putting the measures into action. The Committee will hold its 3rd meeting on June 25. Its role is to support the roll-out of the charter, by helping define resulting actions, while also overseeing the document's effective implementation.
The ratification of the social charter marks a new milestone in the development of the Paris 2024 project. It comes less than a week after the signing of the Games joint funding protocol, which guarantees budget control over permanent infrastructure investments.
Tony Estanguet, President of Paris 2024, emphasised: "The signing of this social charter is a great symbol of the strength and unifying character of the Paris 2024 Games. We are very happy and proud to be able to count on the full commitment, both of our trade union partners and also the business sector, helping to ensure that Paris 2024 will deliver benefits for all. This charter sets the framework for our action in the areas of training, employment access, gender equality and social rights. We are now going to work in consultation and collaboration with all these partners, drawing on their expertise, to help us deliver new-era Games that will drive real change and, in particular, real social progress."
Anne Hidalgo, President of Solideo and Mayor of Paris, said: "As early as the Paris 2024 bid phase, we committed to making these Games the most inclusive and socially-responsible in history. Since that commitment, we have continued to work in a very positive way with employee and employer representatives, as we saw with the EnJeux Emplois event that I had the pleasure to chair back in March. This charter takes us into a new phase, in which our commitments will become actions. The measures it includes, in particular the social and environmental clauses, truly make the Paris 2024 Games work for those Parisians and Ile de France residents furthest removed from employment."
Bernard Thibault, Trade union representative on the Paris 2024 Board, said: "The ratification of this charter by the employer and trade union groups, Paris 2024 and Solideo is proof of all stakeholders' commitment to making these Olympic and Paralympic Games an economic and socially responsible event. Beyond sport, the true heart of the project is a model of social best-practice. This is an unprecedented commitment for a global event of this scale."
Geoffroy Roux de Bézieux, Employer organisation representative on the Paris 2024 Board, said: "We want to make these Paris 2024 Games a showcase for France's capacity for innovation – organisational innovation, involving representatives from the business world in the governance of the Games; economic innovation, promoting French technological know-how; and also social innovation, with commitments made to support employment and skills development. The Games will leave a long-lasting legacy throughout our society, economy and sport."